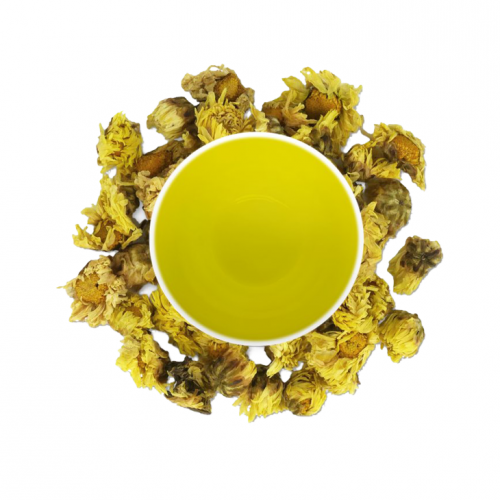 This Green Tea in the long term helps to clear eyes for better sight. The Herbal tea is cultivated on hills plantations, a mountainous landscape for quality growth. It is a farm-fresh green tea that is dried up for long-time preservation. Consistency is the key to having a desirable result. Long term goals should be set and monitored for effectiveness. Maintain a healthy lifestyle and healthy eyes sight.
Product Ingredient:
Chrysanthemum Flower

Benefits:
Reduce Blurriness in the eyes. Enhance eyes vision. Reduce eye problems.
Preparation Tips;
Boil For 3-5 Minutes At 150-170 Degrees Fahrenheit
Origin:
Fenghuang


Quantity:
150 Grams
Grams To Cups:
Avg 50 - 60 Tea Cups.
2-3 Grams To Make A Cup, Depends On Cup Size.
Caffeine Content:
No
Tea Consumption Time:
Throughout The Day After Meals At Minimum
Shelf-Life:
No Expiry, Older The Tea Gets The Better It Is.
-->